Doing business in Nigeria is not easy! This is because there are lots of problematic factors business owners will need to overcome in order to successfully do business in Nigeria. This is confirmed by the recently published Global Competitiveness Report 2016–2017 by the World Economic Forum. The Global competitiveness report was published on 28 September 2016. It assesses the competitiveness landscape of 138 economies. It provides insight into the drivers of their productivity and prosperity.

The three main conclusion from this year's edition of the report are as follows;
1. Declining openness in the global economy is threatening growth and prosperity.
2. Monetary stimulus measures (such as quantitative easing) are not enough to sustain growth and must be accompanied by competitiveness reforms.
3. Updated business practices and investment in innovation are now as important as infrastructure, skills and efficient markets.
"Declining openness in the global economy is harming competitiveness and making it harder for leaders to drive sustainable, inclusive growth," said Klaus Schwab, Founder, and Executive Chairman, World Economic Forum.

The Report series is the most comprehensive assessment of national competitiveness worldwide. It shows Switzerland, Singapore and the United States as the three world's most competitive economies. However, Nigeria is ranked 127th competitive economy out of the 138 economies of the world. As a Nigerian, it is sad to see that Nigeria is just ahead of countries like Madagascar (128th), Congo Democratic Republic (129th), Venezuela (130th), Liberia (131st), Sierra Leone (132nd), Mozambique (133rd), Malawi (134th), Burundi (135th), Chad (136th), Mauritania (137th) and Yemen (138th).

Nigeria which is among the African economies hardest hit by the reduction in commodity prices, fell three places to 127th overall. The fall is associated with Nigeria's weaker macroeconomic environment which went down 27 places and financial sector which went down 10 places. Although with a relatively low global competitiveness, Nigeria's government deficit has almost doubled since 2015 and national savings has significantly suffered, worsening the current account position.

Nigerian banks are less solid, reducing the availability of credit; despite the central bank ending its currency peg, financial authorities have retained restrictions on access to the interbank market, meaning access to finance will remain difficult for many businesses.

Additional factors holding back Nigeria's competitiveness include an underdeveloped infrastructure (132nd), which is again rated as the country's most problematic factor for doing business; insufficient health and primary education (138th), with only 63 percent of children enrolled in primary school; and the poor quality and quantity of higher education and training (125th).
Most problematic factors for Doing Business in Nigeria
According to the 2016-2017 report, respondents to the World Economic Forum's Executive Opinion Survey were asked to select the five most problematic factors for doing business in their country and to rank them between 1 (most problematic) and 5 (less problematic) . The score (in the image below) corresponds to the responses weighted according to their rankings.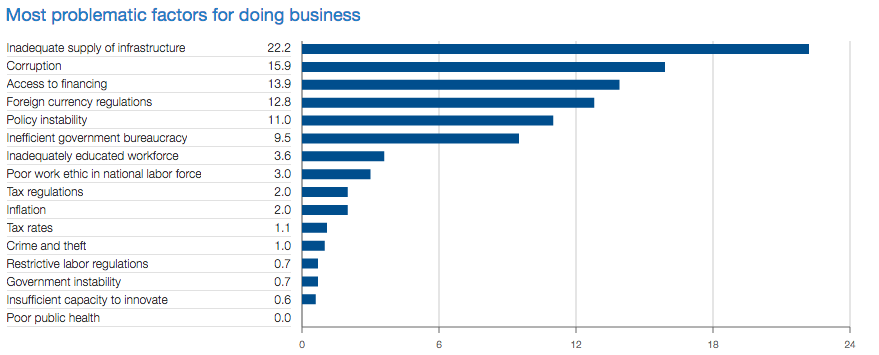 From the 2016-2017 report for Nigeria (as seen in the image above), there are 16 most problematic factors for doing business in Nigeria. The top 5 are as follows;
1. Inadequate supply of infrastructure
2. Corruption
3. Access to financing
4. Foreign currency regulations
5. Policy instability

The 16 problems are what was reported by the World Economic Forum for the year 2016 going to 2017. If the trend continues, Nigeria may fall from the 127th position. Which means, it'll be more difficult to do business in Nigeria. The way out of the falling trends is good policies and good reforms that specifically solves the problems of doing business in Nigeria. Great work needs to be done by Nigeria's government and every small-scale, medium-scale and large-scale businesses. It will take a lot of great effort for Nigeria to increase her global competitiveness. The key factors that were used to classify Nigeria need to be dealt with in details. Each needs to be improved upon. For better understanding of the key performance and the global competitiveness index in details, please download the report here in PDF format.