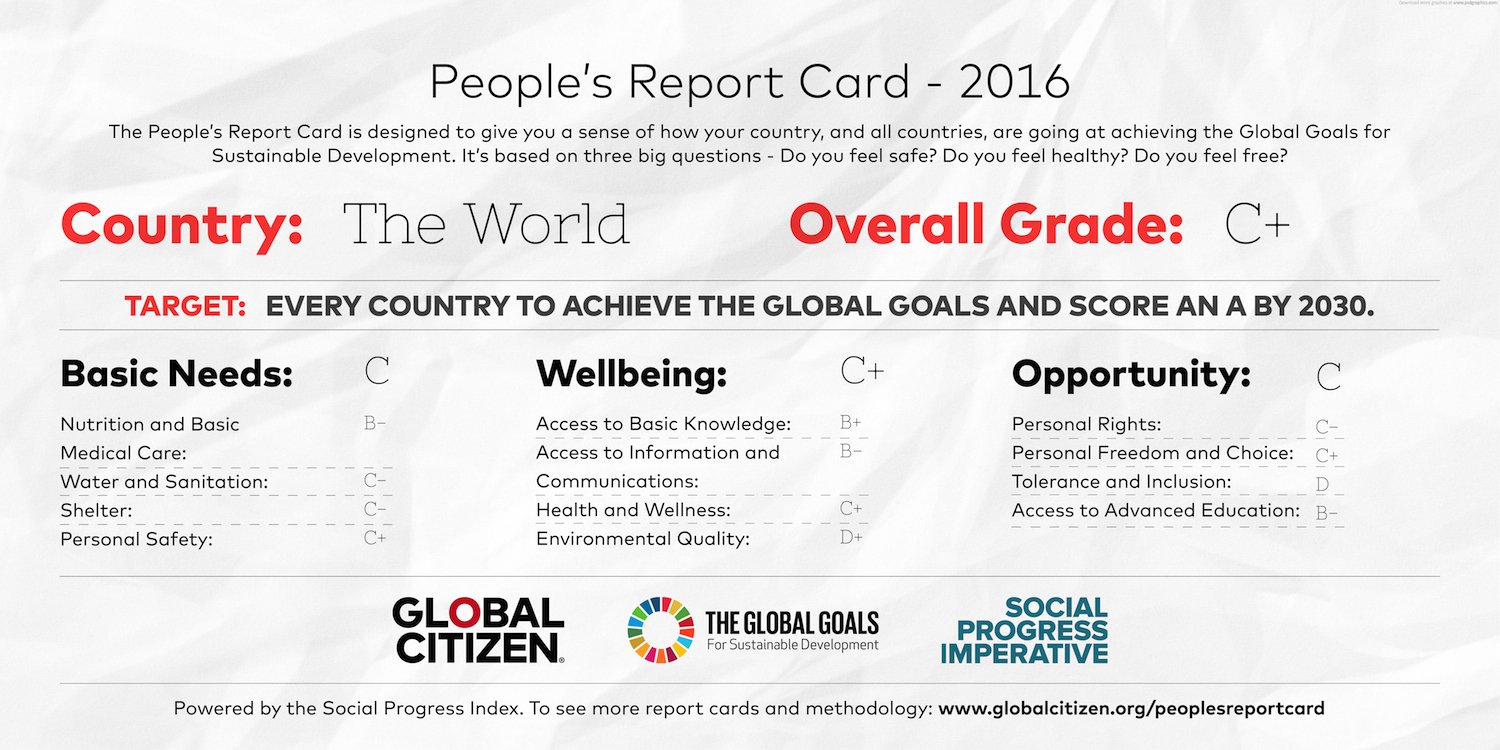 A year ago (exactly September 25th, 2015), 193 leaders of the world made a promise of the Global Goals. A promise to the seven and a half billion people on this planet that our lives will get a lot better over the next 15 years. They came together to agree on 17 Global Goals to achieve 3 extraordinary things in the next 15 years: end extreme poverty, reduce inequality, and protect the planet.

This promise is named – the Sustainable Development Goals, a list 17 goals with 169 targets and hundreds of indicators. This is a critical promise: a promise to save millions of lives; a promise to stop injustice; a promise to protect our planet. And to achieve the Global Goals, it is our job to do better, to hold our leaders to that promise. The good news is that we can.

That's why Global Citizen has teamed up with the Social Progress Imperative to launch 'The People's Report Card'. It's a Report Card on the progress that the world as a whole and each of the countries of the world is making against these goals. It's the People's Report Card because it is a tool for citizens everywhere to check on how whether their leaders are living up to the promise of the Sustainable Development Goals.

The People's Report Card is a robust and comprehensive measure of the real quality of life across the world. It reports on whether everyone has those essential qualities of life: to have your basic needs fulfilled, a fair level of wellbeing, and to have opportunities for the future. The People's Report Card uses a scale from F to A, where F represents humanity at its worst and A represents achieving the Sustainable Development Goals – humanity at its best.

Our world today scores a C+ overall. Every country has room for improvement. The People's Report Card will be monitored and updated each year until 2030.

Check out how your country is doing. Share it on social media and send it to your leaders. Tell them that you want your country and our world to get to an A. Tell them to keep their promise.
See your country's results:

As a Nigerian, I checked the report card for Nigeria and here is it below

At the moment of writing this update, Nigeria has an overall score of D+, which is an overall score of 46.49. We still need to improve in so many aspects as you can see from the data below.

To help improve Nigeria's social progress index and positively affect people life in the bigger picture, I am committed to the aspect of Water and Sanitation – access to piped water, rural access to improved water source and access to improved sanitation facilities – where we presently score E.

What are you committed to?