During the days from Wednesday, November 11 till Tuesday, November 17, 2020, interest in entrepreneurship has increased by 30% worldwide. This is according to the increase in the number of searches conducted via Google.com.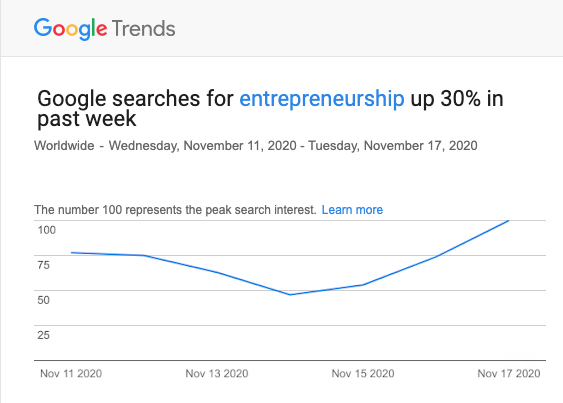 Interest in Entrepreneurship by Region
Most of the top interests are from countries in Africa, with Malawi, Lesotho, Rwanda, Zimbabwe, and Botswana topping the list. The countries with more interests are represented with a dark blue color in the map below.
What does this mean?
In theory, the increase in interest could be a result of the ongoing pandemic (i.e. COVID-19) that has caused many people to lose their jobs or lose their source of income. They are probably looking for ways to start their own business from home.
Likewise, the increase could also be a result of the general shift in the world's interest in entrepreneurship.
Whichever reason for this, it is great to know that more people are gravitating towards the world of entrepreneurship-ism.