Do you know the products to promote on Jumia Nigeria?

I've seen a lot of affiliates for Jumia Nigeria complaining about how much they get from every sale they generate. An example is someone who said he sold a product worth ₦76,244,00 and received a commission of ₦66.88 from Jumia. If you ask me, that's really little income from the product the person promoted. Though I can't speak for Jumia about the payments but I can speak about the percentage commissions you get from the products you sell.

Since I wrote about the 3 Ways to Make Money Online with Jumia Nigeria, I think I should also let you know which of the products you should promote on Jumia Nigeria if you want better commissions from Jumia.

Jumia Nigeria says as an affiliate, you can earn a commission up to 13%, on all orders a customer makes within 30 days from clicking on your ad. This doesn't mean you will earn 12% commissions from one product. It means you can earn up to that or more of you sell multiple products via your generated affiliate link within 30 days. This can be possible is you take part in their several promotions to generate even more revenue. I used this when the Jumia mobile apps for Android, iOS in June 2014. I still get good commissions when anyone installs the app and use it to make any purchase within 30 days.

Here is an image of the percentage commissions you get for referring a new customer or generating a sale on Jumia via your affiliate link.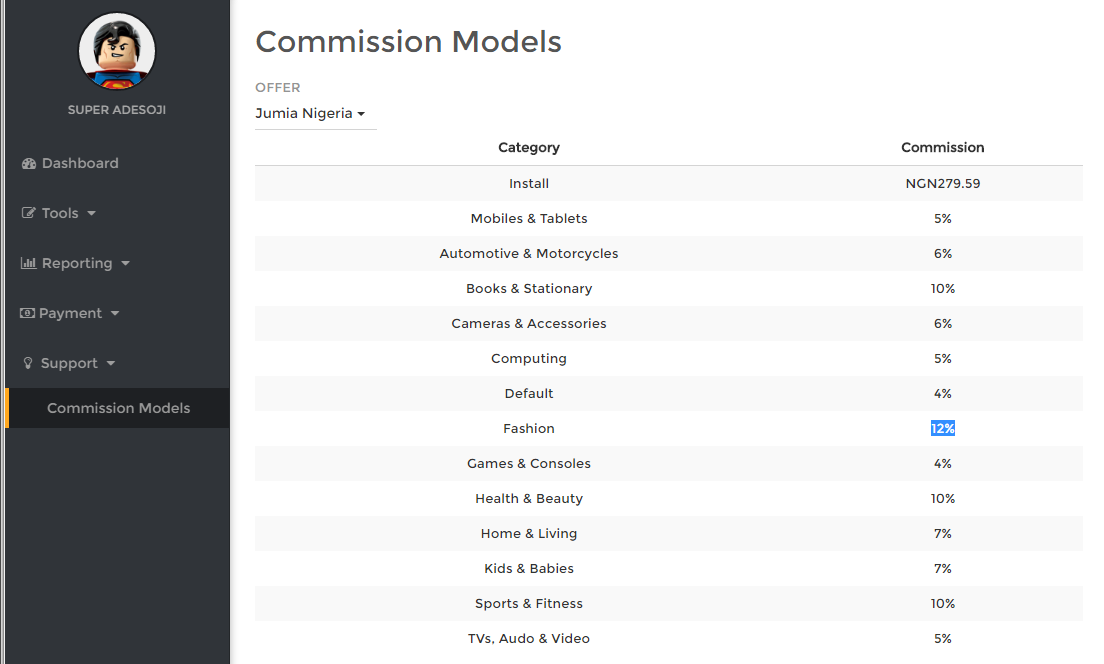 Products You Should Promote on Jumia Nigeria
If I were you, I would promote the products with higher percentage commissions. You can see them on the image above. Examples of such products are Fashion, Books & Stationary, Health & Beauty, Sports & Fitness with 12% and 10% commissions.

Also, you should promote App Installs, which means you get paid ₦279.59 every time a new person download and install Jumia App for Android. You can also promote other products in the product category with less commission to increase your earnings. However, focus more on the products with higher commissions.

Please note, Jumia doesn't pay recurring commissions. There are a 30 days cookies policy which affects sales and commissions. If I buy via your affiliate link today, you only get commissions if I buy again after 30 days. Also, if you refer a new customer to Jumia, you only get paid once for that customer. If the customer buys without using your affiliate link, you get no commissions. Jumia confirms your commissions on the 25th of the following month to enable them to finalise orders status for the previous month. Bank transfers will follow shortly after the orders have been confirmed.

Most importantly, you may promote the products with higher commissions and still not earn that much as an affiliate of Jumia Nigeria. This is because generating real income from affiliate marketing is not only about what you promote. It is also more about why, how, when and where you are promoting the products as an affiliate. If you don't know the why, how, when and where, you can learn by reading and acting on the articles on affiliate marketing or you can sign up for my online business training.