Here are why you Should start Using PureVPN

Virtual Private Network (VPN) is a group of computers (or discrete networks) connected together over the internet. When you connect to a VPN, you usually launch a VPN client on your computer (or click a link on a special website), log in with your credentials, and your computer exchanges trusted keys with a far away server. Once both computers have verified each other as authentic, all of your internet communication is encrypted and secured from eavesdropping – VPN secures your computer's internet connection to guarantee that all of the data you're sending and receiving is encrypted and secured from prying eyes.

VPNs provide the highest level of security using advanced encryption and authentication protocols that protect data from unauthorised access. When you create a private virtual tunnel between your computer and PureVPN, and surf the internet from there, your VPN account is giving you a layer of security you did not have before. In short, using a VPN gives your data/information and your PC/Laptop/Tablet/Mobile etc more security online.
9 reasons why you should start using PureVPN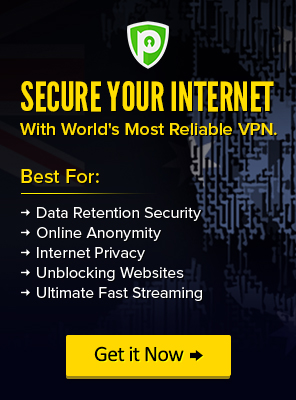 1. Anonymous Web Surfing: PureVPN offers you 80,000+ IP's from over 450+ Servers in 101 Countries to make you anonymous while enabling you to surf the internet freely without any boundaries.
2. Online Security: PureVPN uses high-level encryption and army graded protocols to provide utmost online security to its users' online data and identity.
3. Wi-Fi Security: Wi-Fi is the most convenient way to connect to the internet as well as connect to hackers. PureVPN's SSL based encryption provides its users with best Wi-Fi security.
4. Unblock Websites: PureVPN's incredible services help users unblock any website from anywhere in the world by simply connected to its vast global network in 101 Countries.
5. Unblock VoIP: Bypass all censorship and connect to your favourite VoIP services like Skype, Viber, Whatsapp, and much more, simply by connecting with PureVPN.
6. Hide Your IP: Get your chance to hide behind 80,000+ IP's hosted on 450+ Servers in 101 Countries by simply connecting with a PureVPN widest global network.
7. Identity Theft Protection: PureVPN uses 256-bit SSL based encryption to offer its users complete identity theft protection from hackers and data snoopers.
8. Dedicated IP: PureVPN offers Dedicated IP for users who only want to use one specific IP. This way, dedicated IP users are completely saved from any intrusion.
9. Unblock Social Media: Take down unnecessary censorship on social media and connect to your favourite social networking websites like Facebook, Twitter, LinkedIn from anywhere in the world, with PureVPN.

The beautiful thing is, you get all these for full 2 years by just paying a discounted price for one year. I bought this same deal last year and I'm still using it until next year for free. PureVPN is the world's fastest VPN Service that gives you complete internet freedom with encrypted online privacy and security. Join the family of 1 Million+ satisfied users. This number is a testament to their dependability, availability, & the level of trust that people have on PureVPN.

If you find any benefit out of the reasons you read above, you should consider using PureVPN. The good thing also is, you can configure the VPN for your devices – windows, Mac, Linux, Apple TV, iPhone, iPad, Android and GoogleTV. This means you can surf anonymously, get secured online, unblock websites, hide your IP address, protect your identity online and lots more on any device you own.

If you don't want your online data to be tracked by the various website you visit, then pureVPN is a good tool to get and use. In addition to these benefits, you get a NET firewall addition that blocks unwanted inbound traffic to your blog. You also get an add-on that helps you safeguard your office internet network from malware infestations.