A few months to the deadline of 2015 set by the Millennium Development Goals (MDG) on access to safe drinking water, there are growing indications that Nigeria is still far from meeting its pledge that 75 per cent of Nigerians would access clean water by 2015.

According to a recent NOI Polls Limited results released last week, 47 per cent of Nigerians still cannot access clean drinking water with 83 per cent of Nigerians sourcing their drinking water privately, while only about 9 per cent are connected to the public sewage system. Against the background that lack of access to water leads to a high prevalence of waterborne diseases, like cholera which has been prevalent in our country in recent months, the authorities should be worried by the report.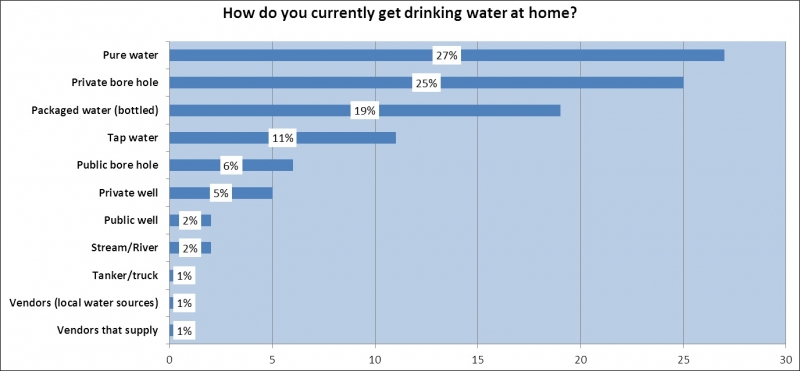 It means that no fewer than 75 million Nigerians are denied access to clean water which may account for while about 100,000 children die every year from diarrhoea and related diseases. It is all the more worrisome that the UNDP Human Development report says lack of water, sanitation and hygiene costs Sub-Saharan African countries more money than the entire continent gets in development aid. The most recent progress report by the World Health Organisation (WHO) and the United Nations Children's Fund on drinking water and sanitation is not only depressing but indeed very embarrassing. Nigeria is still ranked very low on the list of countries with high population density without access to improved drinking water. We can see evidence of that with the recent outbreak of cholera that has killed several people in about five states of the federation.

Water is key to life. The United Nations Secretary General, Mr. Ban Ki-moon, put it rather poignantly when he described water as "a vital tool for improving the lives of millions of the poorest people." Indeed, potable water and improved sanitation service are verifiable measures for fighting poverty and diseases. But in the absence of water from piped supplies and protected wells, millions of Nigerians living in both rural and urban areas consume what is available.

In many rural communities the challenge is critical as women and children trek long distances to fetch water from streams and ponds, some of which are contaminated. Hence incidence and sometimes epidemics of diarrhoea and dysentery are common. Even in the so-called modern cities like Lagos, and Abuja, the federal capital, a large proportion of people have no access to drinking water and as the joint WHO/UNICEF observed, many often resort to using any available space as convenience. For those who can afford it, boreholes are indiscriminately dug. But that too constitutes its own problems as it undermines the water table and threatens future supply of the commodity.

The United Nations General Assembly has recognised drinking water and sanitation as human rights, meaning that everyone must have access to them. Without water, sanitation and hygiene, it is difficult, if not impossible, to have sustainable development. We therefore call on governments, at every level, to invest more in this "cheap" commodity to save the lives of our people.

Image credit: NOI Polls