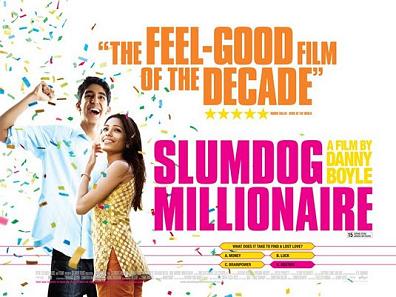 For as many people who don't know what Slumdog Millionaire is. Slumdog Millionaire is a 2008 British drama film directed by Danny Boyle, written by Simon Beaufoy, and co-directed in India by Loveleen Tandan. It is an adaptation of the novel Q & A by Indian author and diplomat Vikas Swarup

The films is about a Mumbai teen who grew up in the slums, becomes a contestant on the Indian version of "Who Wants To Be A Millionaire?" He is arrested under suspicion of cheating, and while being interrogated, events from his life history are shown which explain why he knows the answers.

Watch the trailer below

The Storyline
It's the story of Jamal Malik, an 18 year-old orphan from the slums of Mumbai, who is about to experience the biggest day of his life. With the whole nation watching, he is just one question away from winning a staggering 20 million rupees on India's Kaun Banega Crorepati (2000) (Who Wants To Be A Millionaire?) But when the show breaks for the night, police arrest him on suspicion of cheating; how could a street kid know so much?

Desperate to prove his innocence, Jamal tells the story of his life in the slum where he and his brother grew up, of their adventures together on the road, of vicious encounters with local gangs, and of Latika, the girl he loved and lost. Each chapter of his story reveals the key to the answer to one of the game show's questions. Each chapter of Jamal's increasingly layered story reveals where he learned the answers to the show's seemingly impossible quizzes. But one question remains a mystery: what is this young man with no apparent desire for riches really

What did I learn?
I learned that to become whatever you want to be in life, you either depend any of the four things below;
– Cheat
– Luck
– Genius
– Destiny

If you choose to cheat, this means you are depending on your own ability. If you choose luck, this means you are depending the chance life offers. If you choose genius, this means you are depending on your intellectual ability. If you choose destiny, this means you are depending on what has been predetermined about you.

If you go for destiny in order to become whatever you want to be in life, then you must be ready to turn everything that happens to you into a big lesson for your future success. Live in the moment and take everything that happens to you are stepping stone for the next moment.

Never ever give up pursuing the dream or destiny you believe in. It'll be tough, but that is the true test of what you really desire. Take all the though situations that comes to you as an opportunity to grow.

If you have seen the film, I'll be glad to read what you learned.