For some years, I've been studying and acting in the consumer electronics industry. Just like every industry nowadays, innovators are springing up different innovations. However, today I want to share a bit of the study I did and use with respect to the intelligent assistant systems popularly known as voice-activated virtual assistant technology. Some of the popular ones are Apple's Siri, Microsoft's Cortana, Amazon's Alexa and Google Assistant.
What Are the Attractive Market Opportunities in Intelligent Assistant Systems?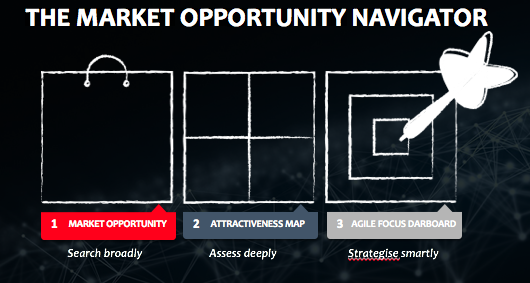 To come up with the market opportunities, a tool called Market Opportunity Navigator was used. The tool helps to find out where to play by searching broadly and analyzing different sets of potential market opportunities, search deeply and compare their attractiveness in order to know which market opportunities are actually attractive and then to strategically and smartly chose an agile focus for the most attractive market opportunities.
For more on the tool, you can check the following
Book: Where to Play: 3 steps for discovering your most valuable market opportunities by Marc Gruber and Sharon Tal
Online Course: Find the right markets for your innovation – A tool for entrepreneurs and innovators for choosing which markets to play in by Marc Gruber and Sharon Tal
Top 5 Market Opportunities in Intelligent Assistant Systems
1. Home Appliances
2. Automobiles
3. Banking Services
4. Business Services
5. Medical and Healthcare
READ ALSO: Growth Expectations for Intelligent Assistant Systems
Attractive Market Opportunities Map (potential vs challenge)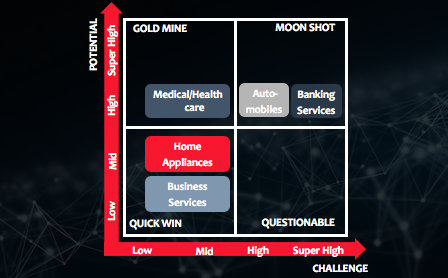 1. Goldmine: Medical and Healthcare
2. Moonshot: Automobiles and Banking Services
3. Quick win: Home Appliances and Business Services
Strategic Focus for Intelligent Assistant Systems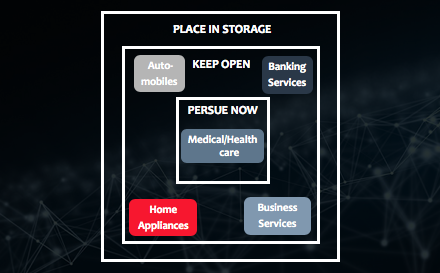 Pursue now: Medical and Healthcare
Keep open: Home Appliances, Automobiles, Banking Services and Business Services
As you have noticed, the medical and health industry is a highly profitable market opportunity for the voice-activated virtual assistance systems (artificial intelligent assistant systems). If you function in this industry, this is something you should delve into and research the best way you or your firm can make the best use of this opportunity. Likewise, the other four (4) market opportunities are very attractive. If you work in any of the industry, you can make the best use of any.
As the virtual assistance technology market is relatively young, it will be in your best interest to pursue more than one of these attractive market opportunities now.
Which one are you interested in? Also, if there's anything mentioned above that you need further explanation on, kindly ask using the comment section below and I'll provide further explanation.
All the best in your pursuit of the gold mines in the in Intelligent Assistant Systems. You could be on your way to building the next billion dollar company.