One of the things I do daily is to update my financial knowledge. One of the tools I use is the VISA Financial Soccer. I came across a game several months ago. It's a game made by VISA (an American multinational financial services corporation). Visa Financial Soccer is a fast-paced, sports-themed game, but it's also a learning tool. The game is divided into three (3) categories.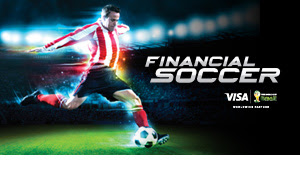 The categories are as follows;
– Amateur: This material was developed for students 11-14 years old.
– Semi-Pro: These modules were created for high school students from 14-18 years old.
– World Class: These lessons are best suited for students aged 18 years or older.

The good news is, I'm getting addicted to the game. I love this addiction because I lean more about financial terms and also gain insights about my finances. You too can start learning while you play. To do this, please go to VISA's financial soccer
The Adesoji Adegbulu's Digest!
Start receiving my weekly digest of the top contents published on this blog and other interesting things that would be valuable to you! Don't miss any of my useful updates. Get started today!
Thank you for subscribing.