On 15th July 2015, my name was presented to the UK Government on a petition of 115,056 signatures asking them to support a Sustainable Development Goal on water and sanitation. Back in March 2015 when WaterAid UK launched the #MakeItHappen petition, they were hoping for 100,000 signatures – it seemed ambitious at the time, but I helped in exceeding all their expectations! This is because of my passion for clean water and sanitation and also because of over 100,000 people like me who are concerned about clean water and sanitation.

And it wasn't just any old petition hand-in. To make sure it really stuck in the minds of decision-makers, WaterAid Uk were outside the UK Parliament, where they invited the parliament to experience a time when sanitation was the hot topic in Westminster – the 'Great Stink' of 1858.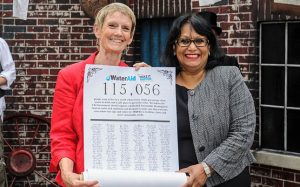 There was an incredible turnout of over 100 MPs and Lords who came back to Victorian London to be reminded of the day when Parliament took action to end the sanitation crisis here in the UK – a pioneering decision which transformed all of our lives. Thanks to everyone else who signed the petition, they were left in no doubt that the British public want to see them show the same initiative to end the global sanitation crisis today.
We kicked up a stink, and it was all thanks to you – we were so proud to represent you all – WaterAid UK

Read more about our stinky day at Parliament

The Sustainable Development Goals won't be announced until the end of September but the final negotiations will be going on over the summer so the timing of the event was critical. I'm glad we could make this possible.