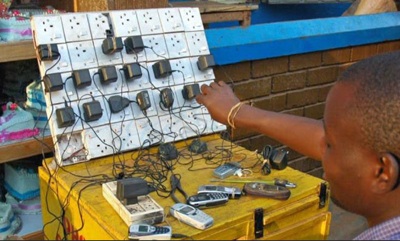 You see, mobile phones are very useful but they become very useless when their batteries are not charged at all. Mobile phones are well built with all the features and functionality that will make it work any day and at any time. But the thing is, mobile phones was not built to function without a battery. Maybe in the future, there would be mobile phones without batteries or mobile phones that needs not to be charged at all.

The simple thing I just stated above applies to our lives also. We are created by God and well built with all the things we need for life and godliness. God has given us everything we would ever need in this world. It is left for us to fully live out the features we are made of and access all the things that God has made available for us. And to do this, we need to keep connected to the source. If we don't our batteries will run out and won't be charged. Our Source is God. We need to be in the right place and connected to the right source.

One Bible teacher writes:
"Cell phones can be lifesavers… but the batteries have a limited lifespan and need to be recharged. One weary weekend, I was as drained as my cell phone battery. I went through my evening routine, dutifully placing my cell phone in it's recharging cradle. Unfortunately, I neglected to plug the cradle into the wall. Next morning, I woke refreshed but my phone was no better than the night before. It was in the right place but wasn't connected to the power source. If I had left my cell phone on the charger for days or weeks instead of overnight, it wouldn't have helped either.

The life lesson here is, Stay Connected to God. Guard against anything that disconnect you from God. Your batteries will be drained by the seconds. You need to keep recharging them by staying connected to your source. Strengthen your relationship with God. As it is very important to stay connected to God, so it is also very important that you use the power you have received from God for the right purpose in this world – which is making the Kingdom of God come into people's life.