Because of you, families in Nepal are receiving food and emergency supplies. Thank you!

This is the headline of the email I just got from Sarah, an online community manager for World Food Programme (WFP). Please, read further to see the remaining content of the email.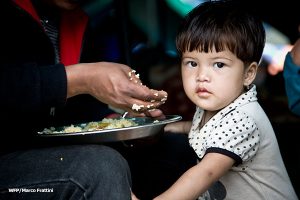 Here's how we immediately put your donation to work:


Lifesaving food for survivors ‐‐ WFP is distributing food in some of the most difficult‐to‐reach areas. Just yesterday, helicopters began flying rice into the Gorkha Valley, a remote district inaccessible by road. And we're following up with High Energy Biscuits, a quick solution to hunger in the early days of an emergency.


Critical support for humanitarian teams ‐‐ WFP is leading the response to this disaster out of our Relief Hub at Kathmandu's airport. We're providing power, storage facilities and transportation for the entire humanitarian community.


Thank you for working alongside WFP as a first responder. Your donation has made this rapid response possible.


We'll continue to keep you updated as our response evolves to meet the needs of children and families affected by this earthquake.

The truth is, 1.4 million earthquake survivors in Nepal urgently need food. WFP needs $116.5 million to provide food for 1.4 million people for three months. You can give these people food by donating to World Food Programme.
Also, you can help Charity: Water to bring clean water, sanitation and immediate relief to the people of Nepal. Donate at CharityWater.org and 100% will go to the earthquake relief and recovery.

You can do this. Because of you, the survivors of the 7.9 magnitude earthquake in Kathmandu, Nepal can have food to eat and water to drink.